What is LVCS?
• LVCS- Lithium VRLA Combo Switch
• Combine two different chemistry batteries/different rate of charging/Priority P1/P2 without
any impact on load.
• State of art of design for smooth power transitions between sources.
• Intelligent monitoring of AH in and Out and SOC.
• Because of high rate of charge and discharge of lithium battery, Priority is given to Lithium
.VRLA Battery is reserved for long power cuts.
• It utilizes both the battery backups at alternate time intervals for extended backup without
interrupting power and maintains the health of battery.
• Equipped with storage device for data recording and LCD monitoring.
• PFC output for charger configuration for dual charging profile.
Why LVCS?
• Best product for customer who wants to use existing battery and improve power
backup.
• Low budget solution for customer wants to use Lithium battery.
• Suitable solution for intermittent power cutoff.
• Reduce carbon foot print -drastically reduce DG runtime /requirement.
• Intelligent system and settable charge /discharge profile
• AH and real time data monitoring.
• Prolonged backup time for places with minimum or unexpected grid availability.
Advantages:
• It offers longer running and extended lifetime of both Lithium and VRLA batteries.
• Backup time is increased.
• Investment in previous VRLA battery is not affected.
• DG free site or Minimal DG requirement.
• Low Operational Expenses.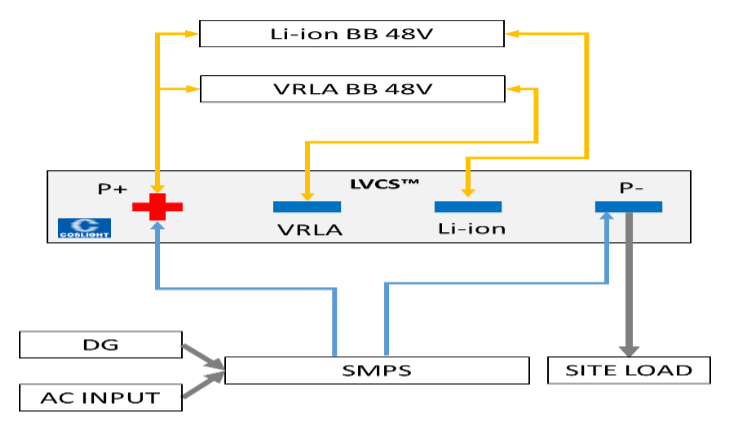 Location: Uttar Pradesh, INDIA
Load: 2.5kW to 3.0kW
EB Availability: 12 to 14 Hours (Highly
Intermittent)
Solution: LVCS (225Ah Lithium + 600Ah
Advance VRLA)
Continuous Backup: 8 to 10 Hours